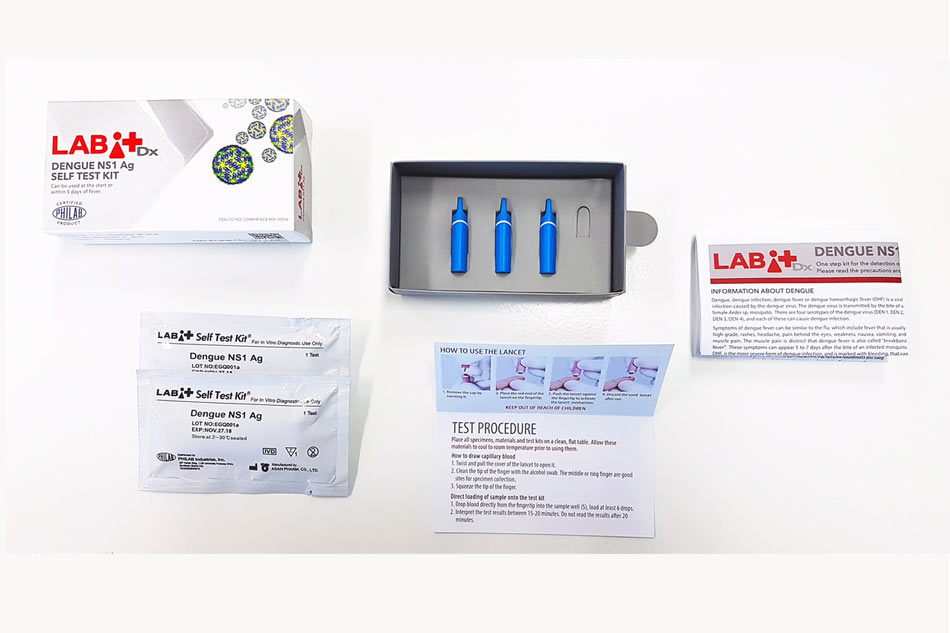 MANILA - Self-testing kit for dengue is now available in retail, allowing patients to check their condition without the hassle of going to hospitals for a check-up.
Healthcare firm Philab Holdings Corp., through its brand LABitDx, launched a self-testing kit for dengue, the Dengue NS1, which functions similar to that of a pregnancy test kit.
The kits are currently available through e-commerce website Lazada and will soon be available in drugstores nationwide, according to a Philab Holdings Corp. statement.
It will come with a lancet or finger pricker that draws out blood for testing, a process which Philab said "is relatively painless." The process takes only 15 minutes.
Like a pregnancy kit, two lines will appear if the blood is positive for dengue, and one if it's negative.
Philab said its screening kit can be used at the onset of fever, and users are advised to consult doctors for positive result and if symptoms persist especially with a negative result.
A self-test kit (a 2-in-1 pack with blue lancets) is priced at ₱300 in
Lazada.
The Department of Health has yet to comment on the accuracy of the said retail testing kits.
Data show 336 of the 110,828 cases of dengue in 2015 resulted in death. Its latest data, though incomplete, said 538 of the 126,386 cases in 2016 also resulted in death.
Symptoms of dengue include fever, vomiting, stomachache, difficulty in breathing, bloated belly, restlessness, and bleeding of nose and gums.
SOURCE